Deluxe Memory Foam Pocket Spring Mattress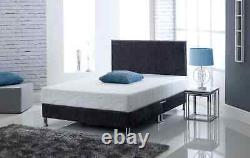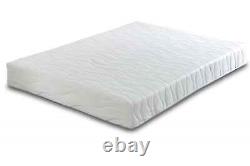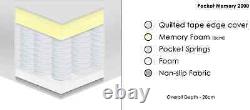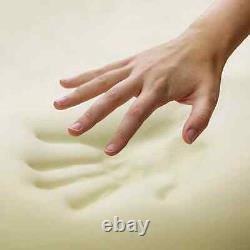 Introducing the Deluxe Memory Foam Pocket Spring Mattress - Unleash the Ultimate Sleep Experience! Prepare yourself for unparalleled comfort and support with our extraordinary Deluxe Memory Foam Pocket Spring Mattress. This top-of-the-line mattress combines the best of both worlds, seamlessly blending pocket springs and memory foam to provide you with an exceptional sleep sensation throughout the night. Get ready to embrace the key features that make this mattress truly remarkable. Mattress Type: Immerse yourself in the perfect harmony of Memory Foam and Pocket Springs.
Mattress Finish: Enjoy the luxurious feel of the exquisitely quilted finish. Mattress Firmness: Experience the ideal balance of plushness and support with our medium firmness level. Mattress Depth: Delight in the generous 20cm depth that ensures a substantial and comforting presence. Mattress Features: Indulge in a wealth of benefits including an individually wrapped pocket spring system, orthopedic support, hypo-allergenic and anti-dust mite properties, vacuum-packed convenience, pressure relief, no roll-off, and impeccable UK manufacturing. Guarantee: Rest easy knowing that we stand behind our product with a 1-year guarantee.
The Deluxe Memory Foam Pocket Spring Mattress boasts an extraordinary combination of a 2.5cm memory foam layer and individually wrapped pocket springs. The memory foam gently molds to your body, providing unparalleled comfort and relieving pressure points for a truly rejuvenating slumber. Each pocket spring is meticulously enclosed, granting them the freedom to move independently.
Say goodbye to any motion disturbance or roll-together, allowing you and your partner to enjoy undisturbed sleep throughout the night. With its medium firmness level, this mattress strikes the perfect balance between a sumptuous, cloud-like feel and unwavering support. It promotes optimal spinal alignment and uniformly distributes your body weight, ensuring a restful sleep while reducing the risk of discomfort or pain.
The quilted finish adds an extra touch of opulence and enhances the mattress's durability, making it a stylish and reliable addition to your bedroom sanctuary. Rest assured, this mattress is designed with your health and well-being in mind.
It is orthopedic, providing targeted support to your body and promoting proper alignment. The hypo-allergenic and anti-dust mite properties create a fresh and clean sleep environment, making it an ideal choice for those with allergies or sensitivities. For your convenience, the Deluxe Memory Foam Pocket Spring Mattress arrives vacuum-packed, ensuring effortless transportation and maneuverability. Once unpacked, it will swiftly expand to its full size, ready to envelop you in its glorious comfort.
Revel in the knowledge that this mattress is meticulously manufactured in the UK, adhering to the highest standards of craftsmanship. Upgrade your sleep experience today with the Deluxe Memory Foam Pocket Spring Mattress. Discover the perfect amalgamation of unrivaled comfort, exceptional support, and lasting durability.
Wake up revitalized, refreshed, and eager to embrace the boundless possibilities of each new day!