25CM Pocket Sprung Mattress & Anti-mite Fabric and Wave Memory Foam Duoble King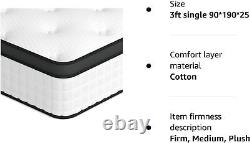 WOWTTRELAX has focused on mattresses and home furnishings for more than ten years and has become a professional home furnishing brand that integrates research and development, production and sales. We adhere to the principle of customer first, draw on advanced foreign technology and put emphasis on excellent design, practicality and durability of our products. We aim to provide you with quality pre-sales and after-sales services, a 100-day trial sleep service. Every good day starts the night before!
From the night you start using the WOWTTRELAX mattress, you will wake up feeling refreshed every morning. WOWTTRELAX Black and White Mattresses combine luxurious materials with innovative antibacterial and anti-mite technology for optimal sleep care. This mattress is designed with a multi-layer construction for incredible comfort and support. Upgraded Fabric- the top layer of the mattress is made of antibacterial and anti-mite fiber, which can effectively inhibit bacteria and mites for 24 hours. You no longer have to worry about allergies! Upgraded springs - The upgraded springs used in the mattress have been roller tested 50,000 times without deformation and have a strength of 1712MPA, giving you stronger support.
Triple foam-air memory foam, wave cotton, 80D high elasticity cotton triple sponge design, soft and comfortable body wrap feeling, fit the body curve, and superior elasticity, comfortable and durable.