Inofia 4FT6 Double Mattress, 10.3Inch COOLMAX Gel Memory Foam Pocket Spring Hybri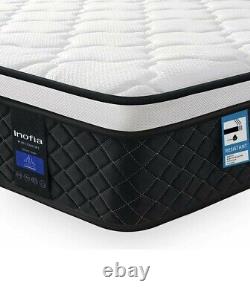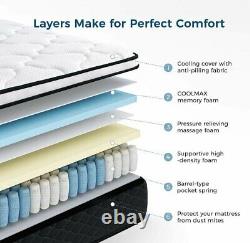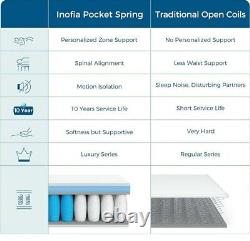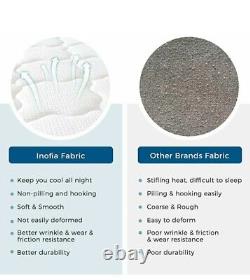 Inofia 4FT6 Double Mattress, 10.3Inch COOLMAX Gel Memory Foam Pocket Spring Hybrid Mattress Double, Breathable Foam and Soft & Cooling Touch Fabric, Medium Firm Feel, Double(135×190×26cm). About Inofia COOLMAX Mattress: Inofia's multifunctional hybrid mattress has passed ASTM 1566's "Rollator" test, which involves a 240-pound weight being rolled over the mattresses 100,000 times.
This test covers various indicators like pressure relief, heat absorption, skin-friendly, anti-pilling, durability, and shock absorption. 80% of customers prefer medium firmness mattresses as they provide a perfect balance between softness and support for maximum relaxation. ###128164;About Cooling Knit fabric: The Inofia Double mattress offers a new level of comfort with a fabric that surpasses Tencel and synthetic fibers. It is non-toxic, environmentally friendly, wrinkle and shrink-resistant, and gentle on the skin. The milk-like softness and cool feel deliver a baby-like nude sleeping touch with zero pressure to sleep naked for year-round comfort.
###128164;About Ultimate Responsive Foam: Double bed memory foam mattress uses multi-layer responsive foam, including new upgrade high-quality COOLMAX memory foam added to the comfort layer to keep you comfortable and cool while you sleep. High-density support provides a full wrap-around feeling, helping you wake up feeling refreshed and energized, it provides different support from head to toe while relieving pressure. ###128164;About Advanced Pocket Spring System:The individually wrapped barrel-shaped pocketed coils in the Double mattress provide excellent motion isolation. It offers precise comfort where you need it most.
It is designed to contour to the curves of the body to protect the lower back and spine, and even turning over is pleasure. The high-strength springs around the perimeter provide support and durability without sagging over time.
###128164;About Comfort and Breathability: The Inofia COOLMAX memory foam mattress combines comfort and breathability by incorporating high-tech cooling molecules into the cool knit fabric for instant cooling effects. The pressure-relieving memory foam softly wraps around you, while the ultra-quiet high-end individually-wrapped pocket springs provide point-to-point support.
Special featureAntibacterial, Hypoallergenic, Low Motion Transfer, Pressure Relief, FireProof. Fill materialFresh Memory Foam, Advanced Pocket Spring, High Density Responsive Support Foam.
Product dimensions135L x 190W x 26Th centimetres.