Plush Memory Foam Divan Bed Set With Mattress Headboard 3ft 4ft6 Double 5ft King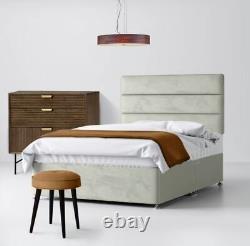 NEW 2023 STUNNING AISLING PLUSH VELVET DIVAN SET ORTHO SPRING MEMORY MATTRESS WITH FREE BUMPER HEADBOARD. The divan bed sets come in a range of colours, sizes and styles. The bed comes with a stunning 24inch chesterfield headboard to become the showpiece in any bedroom. 2FT6 Small Single, 3FT Single, 4FT Small Double, 4FT6 Double, 5FT King Size, 6FT Super King Size.
Memory Spring Mattress or Pocket Sprung. Silver, Grey, Black and Stone.
This divan bed set will bring a healthy dose of style and handy storage solutions to create the perfect bed for you. The Divan is Made of High-Quality British Timber. New Reinforced Platform Top with Slip Proof Cover. Clips to Join a Divan Base Securely Included. There are Three Premium Plush Fabric Colours to Choose From. 2FT6 and 3FT come in 1 part. 4FT, 4FT6, 5FT & 6FT come in 2 parts. Customised Storage Options Available with this Base type.
Medium Firm mattress possesses a unique PostureTech Core Support system which works to understand your body and provide deep support and pressure relief to areas of your body whilst you sleep. 13.5 interlinked bonnell spring system providing edge to edge support. Thick layer of memory foam. Reliable and Extremely Supportive Mattress. Visco Memory Foam Filling and added Polyester.
Easy Care non Turn Mattress, Simply Rotate. Verall Mattress Depth: 8"-10". Mattress style may vary, this will not affect the quality of the mattress.
Mattress is NOT Vacuum Packed or Rolled. 1000 Deluxe Pocket Memory Mattress.
Individual pocket springs used in the construction of pocket sprung mattresses react to pressure. To provide the most support and comfort, these ingenious springs adjust to the contours of your body. 1000 individually Nested Pocket Springs.
Temperature Sensitive Memory Foam with inbuilt Air Vents. Contours To Your Body's Natural Shape.
Mattress Comfort is Medium/ Firm. Three-dimensional Support that Completely Mirrors your body Movement.
All of these mattress have been manufactured within the U. K using the best sourced quality materials offering sublime comfort and durability. Please note mattresses are not rolled.
Every mattress type is tested to ensure it exceeds all British standards. The headboard is fully upholstered and has a traditional deep buttoned design, great for those looking for a classic look, whether you prefer traditional or modern designs. Matching 24inch Luxury Bumper Padded Headboard. Luxury Upholstered and Padded Headboard. Beautiful Range of Luxurious Fabrics. Headboard Colour will Match the Divan Base.
W 90 x L 190 cm. W 120 x L 190 cm.
W 135 x L 190 cm. W 150 x L 200 cm. W 180 x L 200 cm.